The NOBLE team, along with key C5ISR supplier partners, exhibited at the Global Security Exchange (GSX) event, held September 11-13, 2023, at the Kay Bailey Hutchison Convention Center in Dallas, TX. Geared toward security professionals worldwide, GSX provides a unique opportunity to stay ahead of the challenges spurred by the ever-changing security landscape.
Edward Levy, NOBLE Director of Critical Infrastructure, described GSX as the "largest international conference and trade show for security practitioners in the government and private sector."

"Many of the products NOBLE sells to government agencies are equally used in the private sector and by government contractors. GSX is a prime opportunity to introduce NOBLE – its products, services, training, and SMEs to end users and other companies, such as design and engineering firms, security forces, and security integrators, whose needs are a fit with NOBLE for our distinctive capabilities," Edward explained.

GSX programming emphasizes the importance of remaining resilient against evolving cyber and physical threats, encouraging participants to develop strategies and tactics to safeguard against potential risks.

The event's expansive exhibit hall allows attendees to discover new products, technologies, and services, enhancing their capabilities and effectiveness in the security industry.

NOBLE will showcase many of our products that fit into the US Critical Infrastructure (i.e. airports, mass transit centers, stadiums, financial centers, defense industries, and much more).
Supplier partners in our 2023 booth included: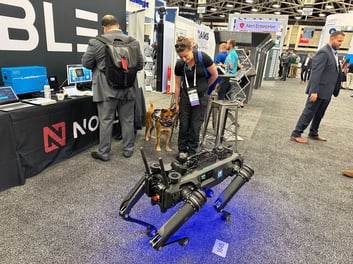 ProKlean Services
Albers Aerospace
Echodyne
AccuSense SEER Technology
Thruvision
Leidos
Videray Technologies, Inc.
Ghost Robotics
Organized by ASIS International, the world's largest membership organization for security management professionals, GSX also supports scholarship funding for security professionals and the administration of essential industry certifications, standards, and guidelines.

Attending the Global Security Exchange (GSX) 2023 is crucial for security professionals looking to stay informed, connected, and prepared for future challenges. With its focus on education, networking, resilience, and access to cutting-edge technologies, GSX offers an unparalleled opportunity for growth and advancement for those in the security industry.
Learn more about NOBLE's upcoming trade shows and events here.