In a world where opioid overdoses are on the rise, ensuring the safety of the public, first responders, and those on the front lines is of utmost importance.
We're thrilled to present NOBLE's innovative opioid response kits, expertly crafted by our subject matter experts to safeguard and support the first responders tackling opioid-related emergencies. In this blog post, we will explore the significance of these kits, shedding light on their features, our commitment to public safety, and the comprehensive training we provide alongside our large selection of safety equipment products.

Responding to a Growing Crisis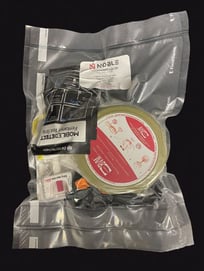 The alarming surge in opioid overdoses nationwide has prompted the need for immediate and effective solutions. Recognizing the urgency of the situation, our NOBLE Training team has developed a range of opioid response kits that serve as a crucial line of defense in these life-threatening situations.
Matthew Gutwill, a seasoned NOBLE training manager and law enforcement veteran of 32 years, designed the NOBLE Opioid Response Kits. He brings a wealth of experience, including 16 years with the DEA, 25 years in the New England Narcotics Officers Association, and a decade as its president.
The NOBLE Opioid Response Kit stands out for their completeness, prepackaging, and compactness. Whether they're placed in first responder vehicles, homes, dorms, schools, or workplaces, these kits are perfectly suited for various settings. The convenience of having these kits readily available ensures a rapid and effective response when every second counts.
Describing the Opioid Response Kits, Cara Vaughn, NOBLE Sr. Training Manager, said, "The difference between our product and [others on the market] is the NOBLE OD Response Kits come in a vacuum sealed disposable bag, designed to reseal to protect any contaminated products/PPE/evidence."
How to Purchase
Agencies and departments may contact our training team to request more information or request a quote to purchase the NOBLE Overdose Response Kit.
NOBLE: Your Partner in Readiness
It's not just about providing products – NOBLE offers end-users a comprehensive partnership in readiness. Specializing in products and training for first responders, military personnel, federal agencies, and the private sector, our team goes beyond the conventional to offer tailored solutions for each mission's unique requirements. With subject matter experts boasting operational experience, you can rest assured that the training provided by NOBLE is of the highest caliber.

Our commitment to ensuring the safety and effectiveness of first responders shines through our training programs. From classroom sessions to hands-on practicals, integrated equipment training to tactical scenarios, and even full-scale response simulations, the NOBLE Training team covers all bases. This comprehensive approach equips first responders with the skills and confidence they need to navigate the challenges of the field with precision.

NOBLE doesn't compromise when it comes to the quality of equipment and solutions we offer. By collaborating with leading equipment brands, our team ensures that first responders have access to tools they can rely on.

Learn more about the NOBLE difference here.